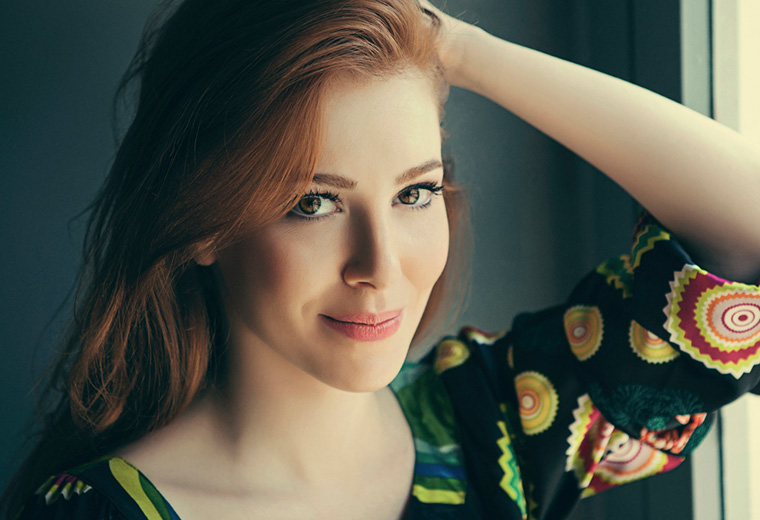 Full Name:
Real Name: Aneta Feodorovna Markova
False Name: Audrey O'Shea (she used that name in past, more in history)
Alias: Carmen
Nicknames:
Carmen (Among Death Eaters)
Age:
28
Date of Birth:
April 20th
Birth Place:
Moscow, Russia
Current Home:
London
Blood Status:
Half-Blood
Sexual Orientation:
Bisexual
Wand:
rosewood, phoenix feather, 11' + rigid
Hair Color:
Red
Hair Style:
Long and straight
Eye Color:
blue
Height:
175cm
Clothing Sense:
Dresses and high heels
Other Features:
/
TRAITS:
+ Active
+ Adaptable
+ Adventurous
+ Attractive
+ Balanced
+ Brilliant
+ Calm
+ Capable
+ Challenging
+ Charismatic
+ Charming
+ Clever
+ Courageous
+ Creative
+ Dignified
+ Discreet
+ Dramatic
+ Efficient
+ Elegant
+ Eloquent
+ Energetic
+ Focused on her goals
+ Hardworking
+ Idealistic
+ Imaginative
+ Impressive
+ Independent
+ Innovative
+ Leaderly
+ Mature
+ Organized
+ Passionate
+ Persuasive
+ Precise
+ Resourceful
+ Self-reliant
+ Skillful
+ Sociable
+ Sophisticated
+ Spontaneous
+ Strong
- Abrupt
- Angry
- Arbitrary
- Arrogant
- Sometimes brutal
- Careless
- Coarse
- Cold
- Conceited
- Condemnatory
- Crafty
- Critical
- Cruel
- Demanding
- Devious
- Extreme
- Impulsive
- Moody
- Manipulative
- Narcissistic
- Possessive
-Perfectionist
-Was too loyal to her father
Aneta is a very complicated person. She has adventurous spirit, always wants to try new things and often risks. In addition, she is manipulative, smart and strong, this are traits which help her to get everything she wants. Observing her personality and what caused some of her features, you would understand Aneta was not a bad person. She was still a little girl who wants her father's praise, and ready for anything which makes her father be proud of her. Hard to believe people in her life, there are a few people who are important to her and to who she trusts, for that person she would be able to turn the whole country upside down. By the nature she is impulsive and spontaneous, brilliant and able to accomplish all what she wants. Deep down she wants happiness and love. She never had a serious relationship, she is observed that only as entertainment. She likes to experiment and learn new things in all spheres of life. She was experimenting a lot in love and eventually discovered she likes both women and men. She never fell in love and thinks she just does not have that feature. She is perfectionist and everything works gradually. She is able to spend hours coming up with something that would be perfect rather than quickly come up with low-quality solution. That is why she is an excellent leader.
Father's Name:
Fedor Markov
Age:Blood Status/Species:
Pureblood
Occupation:Status:
Dead
Mother's Name:
Aksana Petrova
Age:Blood Status/Species:
Muggle
Occupation:Status:
Dead
Sibling's Name:
Irina Markova
Age:
30
Blood Status/Species:
halfblood
Occupation:
unknown
Status:
alive
Sibling's Name:
Josja Markov
Age:
24
Blood Status/Species:
halfblood
Occupation:
unknown
Status:
alive
Other Key Members:
( name, age, blood status/species, etc )
General History:
Aneta Markova was born at April 20th in Moscow. Her father, Feodor Markov, was pureblood wizard and the infamous leader of the Russian DE. He fell in love with Muggle woman, Aksana Petrova but could not stand the shame when he found out she was pregnant. A child was born, and shortly after, Feodor killed Aksana but let the child live. Girl is named Aneta, like his mother, and he decided that he would love her and learn to continue her father's footsteps. He had convince all and even his daughter that she is a pureblood witch and that her mother had left them.
Aneta grew with his father, deprived of maternal figures in her life. She never learned how it feels to have both parents, and her mother did not miss her. However, her father's words have influenced her. For years, she decided she did not want the family because the family is not valid. If it is not true, the mother would not have left the children, right?
Aneta started to go at Koldovstoretz school in Russia. About her time at school is not much to say. She was always confident and communicative, and quickly gained a lot of friends. She joined to the Dark Followers who have formed a few years back in her school modeled on those in Hogwarts. Aneta is very smart, she enjoyed learning and in almost all subjects. For most subjects showed great talent and was a favorite of many professors. She was the person you loved for sure. She was always ready to help, she was like a walking encyclopedia but a social, fun and a good friend.
At sixteen she changed a lot. Her father was quite influenced to her minds and she began to look the world with different eyes. Now, instead of wanting to become a teacher, her desire was to join DE. She became cold, alienated from the majority of friends and was not prepared to help so easily. Slowly, she became the person she was after high school and accession DE.
Before DE:
Aneta finished school with excellent grades. She received offers for a variety of jobs, but nothing is not overly interested. Her father wanted her to join the DE in any other country and help her to come to the top and then to be able to cooperate. She moved to Switzerland and after a year joined their DE.
During DE:
The road to success was hard. She started with some small positions, but she was smart and a great manipulator, so she quickly climbed to the top. Her dreams came true. She became the leader of the Swiss DE. Being a member of the DE is meant constantly exposed to danger. Therefore, Aneta immediately on arrival in Switzerland started using the alias Carmen by which she was known even after most of the members knew her real name.
Carmen was a great leader. Smart, always cold mind, manipulative enough to gain all she wants but also fair to the other Death Eaters. Everyone was respect her and therefore she was sure that nothing can go wrong.
She met Adrian, three years younger wizard who was great fun for her.
Two years are needed her to become a leader, and after eight years of successful leadership DE, all fell into the water.
Her father was killed. Her best friend is missing. Everything was completely unclear for a few moments. Still, she knew who was responsible for the death of her father, and she knew he should not go unpunished. She headed to Russia and not thinking killed a new representative of the Russian DE, who killed her father. Then, she learned that her father was responsible for Nick's disappearance.
Carmen returned to Switzerland, but it was the worst possible decision.
Her murder triggered an avalanche of events, she lost the support of members and now they are looking for her, to kill her. She packed up her things and left.
After DE:
In her life once again came Elizabeth. It's a girl she met in Nik home, at a time when she was in relationship with him. Beth said her who is responsible for the death of her father, as well as Nik's disappearance. How Beth came to this information, now it did not matter.
After escaping, Carmen had sent her an owl with short-told in recent events.
Beth helped her to come to London and re-join the DE, with a new identity. She became Audrey O'Shea, Elizabeth's Blackburn half-sister with a brand new past.
But past came for her. She saw that she can't hiding forever, so she went to Russia and meed with DE.
For some reason, they forgave her and now she came to London again with her true identity and continue being member of DE.
The deal in order to forgive her, Russians wanted her to be the Leader of Death Eaters in England so they can cooperate. Aneta agreeded and now she is leader once again.
Friends:Frienemies:Foes: