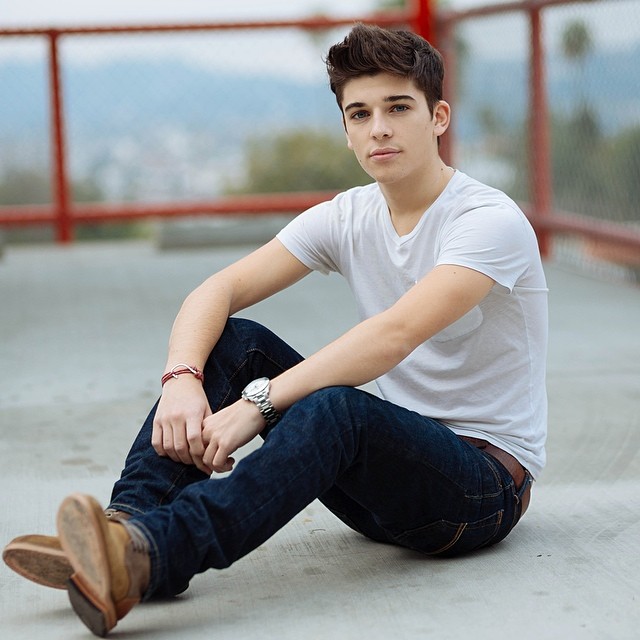 Full Name:
Raylan Marcus Chamberlain
Nicknames:
Ray
Age:
11
Date of Birth:
December 19, 2007
Birth Place:
Falmouth, England
Current Home:
Falmouth, England
Blood Status:
Half-Blood
Sexual Orientation:
Bisexual
Wand:
10 inches, Cedar, Unicorn Tail Hair
Hair Color:
Brown
Hair Style:
Short and Styled
Eye Color:
Blue
Height:
4'10"
Other Features:
N/A
Clothing Style:
Casual and Preppy
Raylan can in many ways very intelligent and advanced for his age, and also tends to often think that he is better than everyone else due to that fact. He is also often described as being a walking encyclopedia due to him having a mind that is filled with all sorts of things. In many ways being a kid who bores people with all the facts that his brain contains. Raylan also has a very high vocabulary for his age and tends to use his vocabulary quite a bit.
He also is rather anti-social not really having many friends and tends to keep to himself. People often consider him to be stuck-up due to him not really talking much. Raylan also can be often described as being very irritable and annoying, especially by his older siblings. Who he often likes to bore people about the stupid facts that he comes up with. Raylan also thinks very highly of the people who have used their brains to benefit the world.
Despite his parents being owning a Quidditch team, the boy does not like Quidditch in the slightest, finding it to be a stupid sport. Even though his brother Daxton would in many ways disagree with him and call him a loser. Raylan just could never really get into any sort of sports that others played nor did he really want to, the only thing closest to a sport that he likes is competitive games. Raylan is in many ways addictive to video games and has no social life.
When it comes to his video games, Raylan tends to put quite a bit of research into them. Partially helping him know a lot about a wide variety of things. Even though the boy is only eleven he knows a lot more about things then he lets down, and people often don't let him have an input. Mainly because they do not want to be bored to death with the things that Raylan knows about, making it hard for him to do a lot of things.
Raylan is also extremely caring despite not always showing it, he secretly does appreciate all that people do for him, and he does love his family. He also is very loyal and when he makes friends he will try to be the most loyal person that he can be to them and would do anything for anyone that he comes encounter with.
But tends to often put intelligence first.
Father's Name:
Dominic Ace Chamberlain
Age:
41
Blood Status/Species:
Pureblood
Occupation:
Owner of Falmouth Falcons, Department of Magical Sports Worker, and
Former Slytherin
Status:
Living
Mother's Name:
Lorelai Magnolia Chamberlain ( nee Reynolds )
Age:
40
Blood Status/Species:
Half-Blood
Occupation:
Co-Owner of Falmouth Falcons Quidditch Team and Former Ravenclaw
Status:
Living
Older Brother's Name:
Daxton Kent Chamberlain
Age:
16
Blood Status/Species:
Half-Blood
Occupation:
Hogwarts Student/Quidditch Star
Status:
Living
Older Sister's Name:
Tatum Felicity Chamberlain
Age:
15
Blood Status/Species:
Half-Blood
Occupation:
Hogwarts Student
Status:
Living
Older Sister's Name:
Delaney Chamberlain
Age:
14
Blood Status/Species:
Half-Blood
Occupation:
Hogwarts Student
Status:
Living
Other Key Members:
A few aunts and uncles.
General History:
Raylan grew up as the youngest child of Dominic and Lorelai Chamberlain and had from day one always been the brains of his siblings. Something his parents had admired about their final son and hoped that maybe he would do great things with his life. Raylan though had always found himself reading books and when he was old enough playing video games. His life had been good for the most part as his parents had practically owned the Quidditch world. Being big shots who got their money from playing it and kept it by owning teams.
Growing up Raylan had in many ways been more advanced than his age, and often found his life being surrounded by knowledge instead of what his older siblings valued. Raylan had the closest relationship with his sister Tatum who was the only one who knew what it what is like to be smart, but Raylan could in many ways succeed her at being smart. When he was about six years older Raylan displayed his first signs of magic and had made his parents extremely happy. Raylan also had spent most of his life going to the wizarding primary school, after his magic signs were displayed.
Raylan had never really made any friends growing up due to him being really smart. In many ways finding himself to always be the kid who would keep quiet. Since if he had talked to anyone he had immediately bored them to death with his facts. As the boy is not really knowledgeable about what kids his age should do. His parents had admired their signs smarts, and if he was not a wizard they would have him sent to one of the most prestigious school.
As years went on to him receiving his Hogwarts letter, had been in many ways normal for the boy as his relationship with Tatum had grown stronger. To him in many ways admiring his sister and feeling like he was no so alone with her as his older sister. Despite his older brother in many ways finding him to be a kid who he could use to help him with his grades. The boy having been way too advanced for his age.
The summer after he turned eleven the boy received his Hogwarts letter. Which would end up hopefully being one of the best things that had ever happened to him. Opening his life to an entirely new chapter which he is curious to see what happens.
Family History:
Dominic and Lorelai are in many cases people who had been both brought up as privileged individuals. Coming from the most part a wealthy upbringing, with knowledge of the wizarding world, but for Dominic ending in his pureblood line being broken, but something that he was not at all ashamed of. Knowing from the moment that he met Lorelei they had wanted to be together and one day start this their own family.
Both having met in their last couple years of Hogwarts, growing a very close friendship. Which would end in them being married with children. Even though before all that, the couple had both been Quidditch players during their time at Hogwarts. Ending in them going to the professional league when they were older. Their life had been in many cases great and once they they graduated they decided to take a break to focus on their careers.
Which ended up being a career in Quidditch, with Dominic being the keeper for the Falmouth Falcons, and his wife the seeker for the Pride of Portree. The couple had for about four years had bee single, rekindling their romance, getting married. And for the next couple years they had played Quidditch, but when they were twenty-six they had their first child which would be the end of Lorelai's playing Quidditch career.
Even though once their third child had been born, Dominic had retired from being a professional Quidditch player. Leading to him about three years after, when his wife was pregnant with their fourth and final child. He had bought the Falmouth Falcons team, due to him holding a high respect for them, and wanted his children to have that opportunity. Which would lead to them becoming a rather rich family.
As years went on things had prospered for the family, and when their children went off to school they had decided to spent their free-time traveling and visiting all of the locations they could which started once their last son went off to Hogwarts.
Friends:Frienemies:Foes: